Australian Natural Solid Semi-Black Opal Stone 1.77ct Gem SBOPB110115
Solid Semi-Black Opal from Lightning Ridge.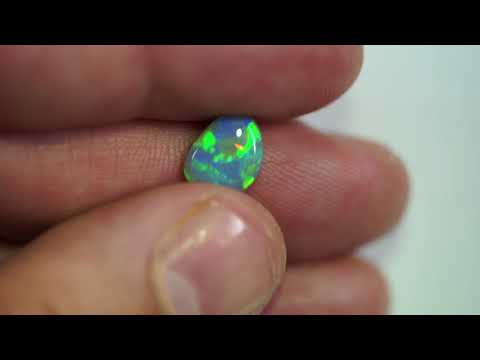 Australian Natural Solid Rare Semi-Black Opal Stone 1.77ct Gem SBOPB110115 - YouTube
Video will open in a new window
[isdntekvideo]
This opal is just as beautiful

as

it appears on the

imag

es !

A stunning and beautiful gemstone, ready to be made into a gorgeous piece of fine jewelry! Perfect as a pendant or ring stone.


This stone just lights up with amazing colors! Beautiful pattern! 4 out of 5 in brightness, very bright!  It's a dark stone N6 in body tone! Looks absolutely fantastic under any light! Suitable for ring or pendant settings.

This stone is very good quality. Perfect cut and polish. 

* Body tone is N6 Dark.
* Brightness is 4 out of 5.
* The size of the stone is 10.5 x 8.2 mm.
* Thickness of the stone is 3.2 mm. Slight dome.
* The weight of the stone is 1.77 ct.
Note: 1 Inch equals 25.4 Millimeters
Retail value: $600
Don't miss out on this truly beautiful solid semi-black opal! BUY WITH CONFIDENCE!  I am an honest seller.

Shipping Charges: To USA FREE, Australia FREE, Rest of the world FREE for insured air mail. Other services available by contacting me.
Shipping time is 5-21 days to the US/Europe.

 
All the opals I sell are professionally cut and polished by me. I have been in the wholesale opal business for over 20 years. Selling to exporters and retail shops. You are guaranteed to get the best possible quality for the best possible price when buying from me.All the opals that I sell are solid Lightning Ridge opals that are NOT treated in any way.
---
We Also Recommend
---